Infra-ordinary architecture for the Great Plains
Following an analysis of existing buildings, FACT will preserve only three: two older wooden exhibition structures at the west side of the complex and an early metal building at the east. Between these we arrange three new metal buildings, a Show Barn and two livestock sheds. The complex is linked by dedicated paths for livestock, participants, and visitors at the ground level and a catwalk for viewing above. The catwalk allows visitors to pass through all buildings and above the livestock pens, dropping back to the ground at the two historic exhibition buildings. While the livestock sheds and Show Barn are designed for seasonal uses (and community storage in the winter), the repurposed metal building becomes a year-round Community Center. The surrounding landscape accommodates community gardens, grazing, camping, carnivals, and other large events.
The architecture is decidedly understated. The three new structures are identical in proportion and material configuration to the old metal building; however, two of the sheds are skewed with unusual parallelogram plans, providing dedicated outdoor uses facing different sides of the site. The apparently familiar buildings are in fact derived, literally, from the axonometric projection.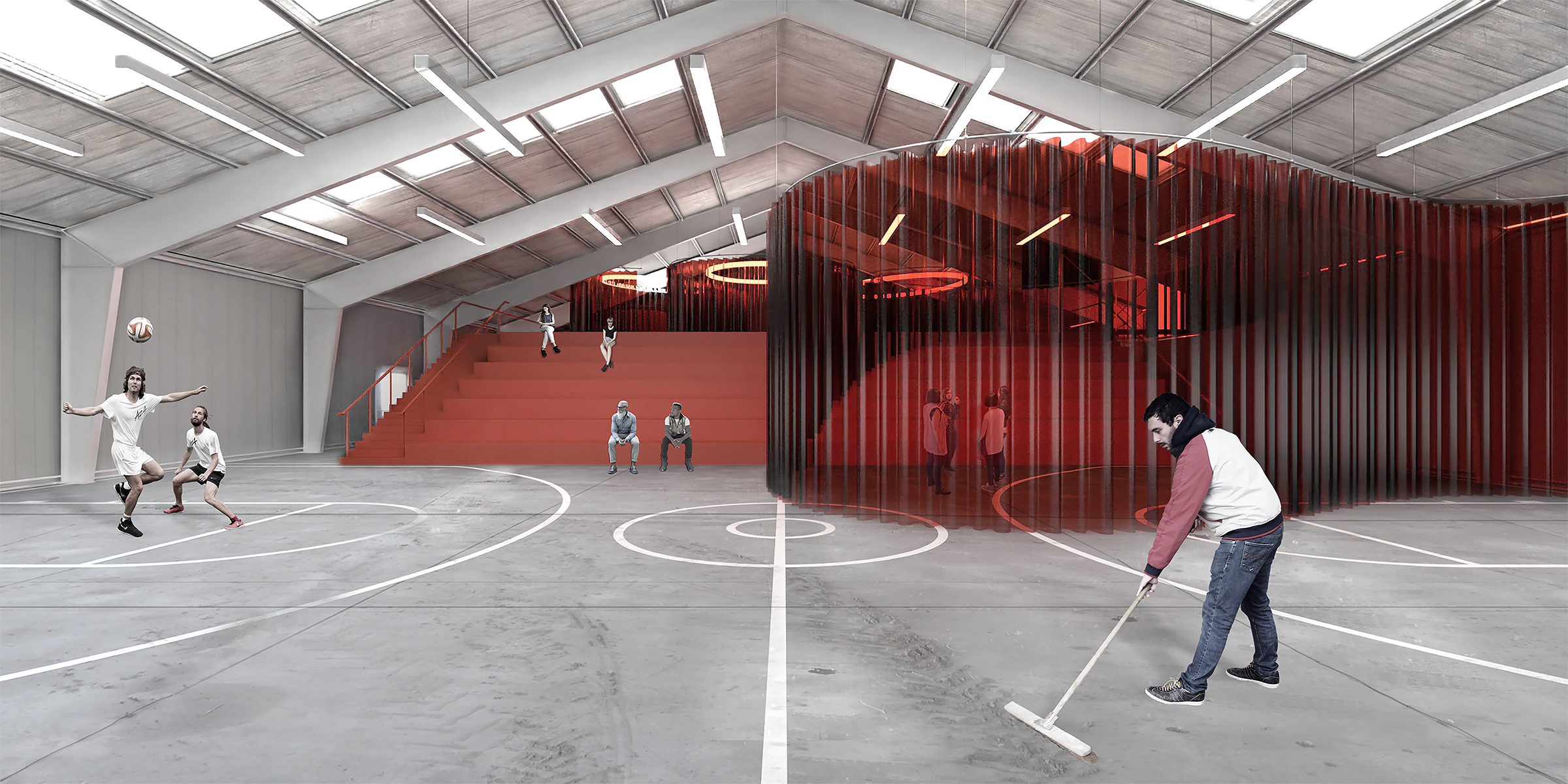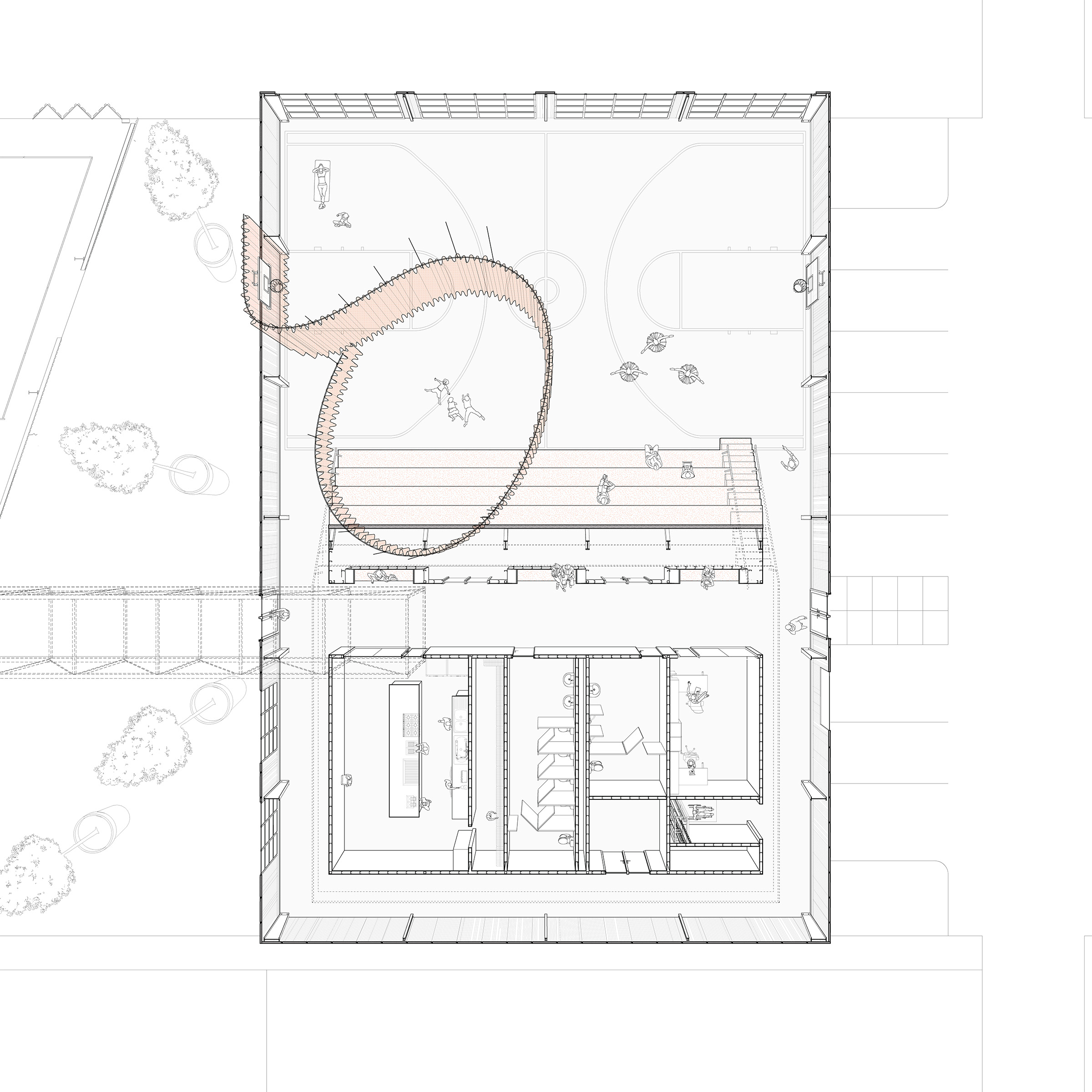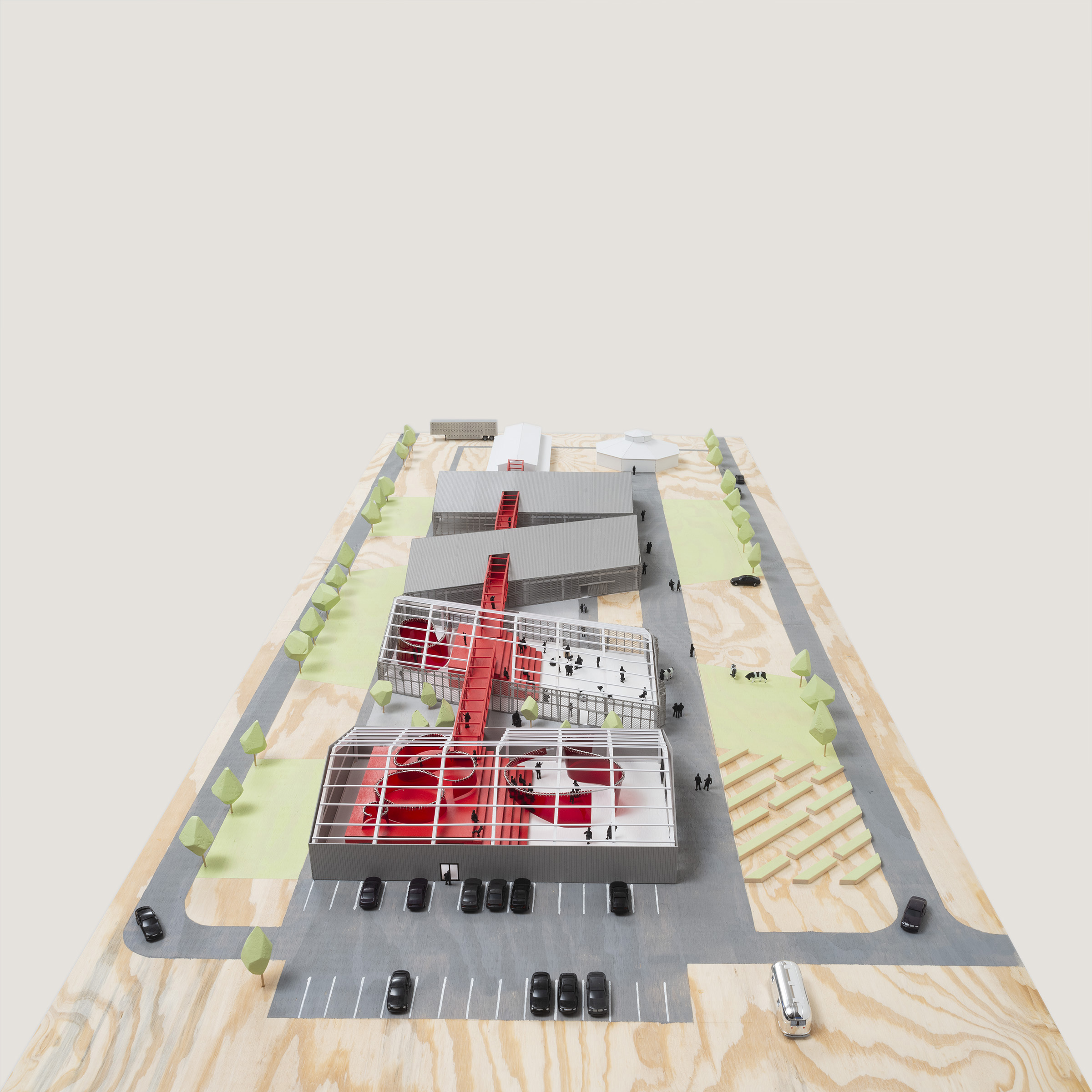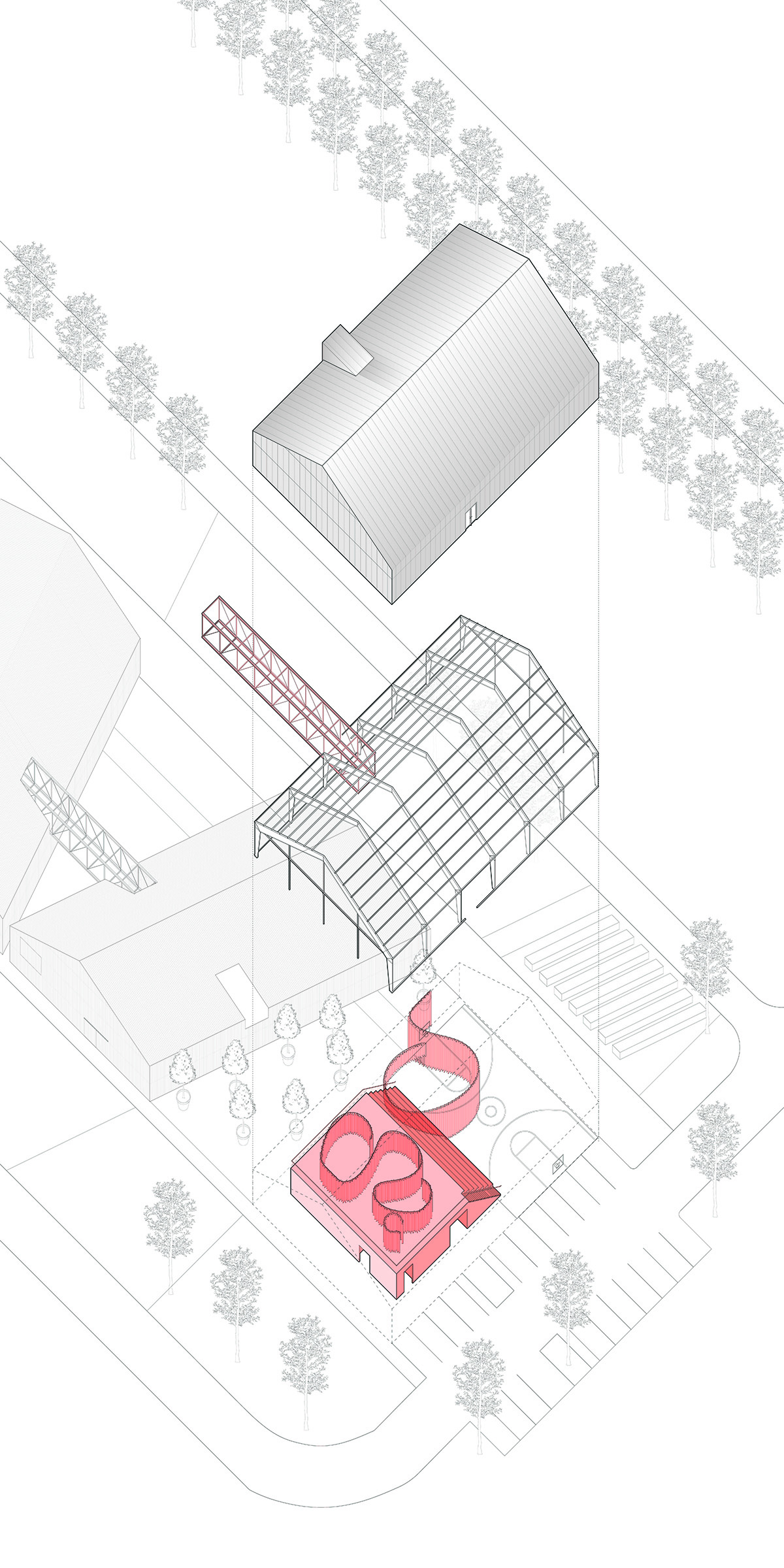 At the east end of the complex, the Community Center will be constructed within an existing metal building (with added insulation for year-round use). A solid plinth with tiered seating on one side contains a kitchen, restrooms, storage, and an office with multipurpose space above. Areas can be subdivided with translucent curtains. The catwalk begins here and connects all 4 metal buildings in the complex. The Community Center will host a wide variety of events from lectures, to dinners, weddings, craft sales, and exhibitions. Casual users can work out in an open gym or play on the ball courts.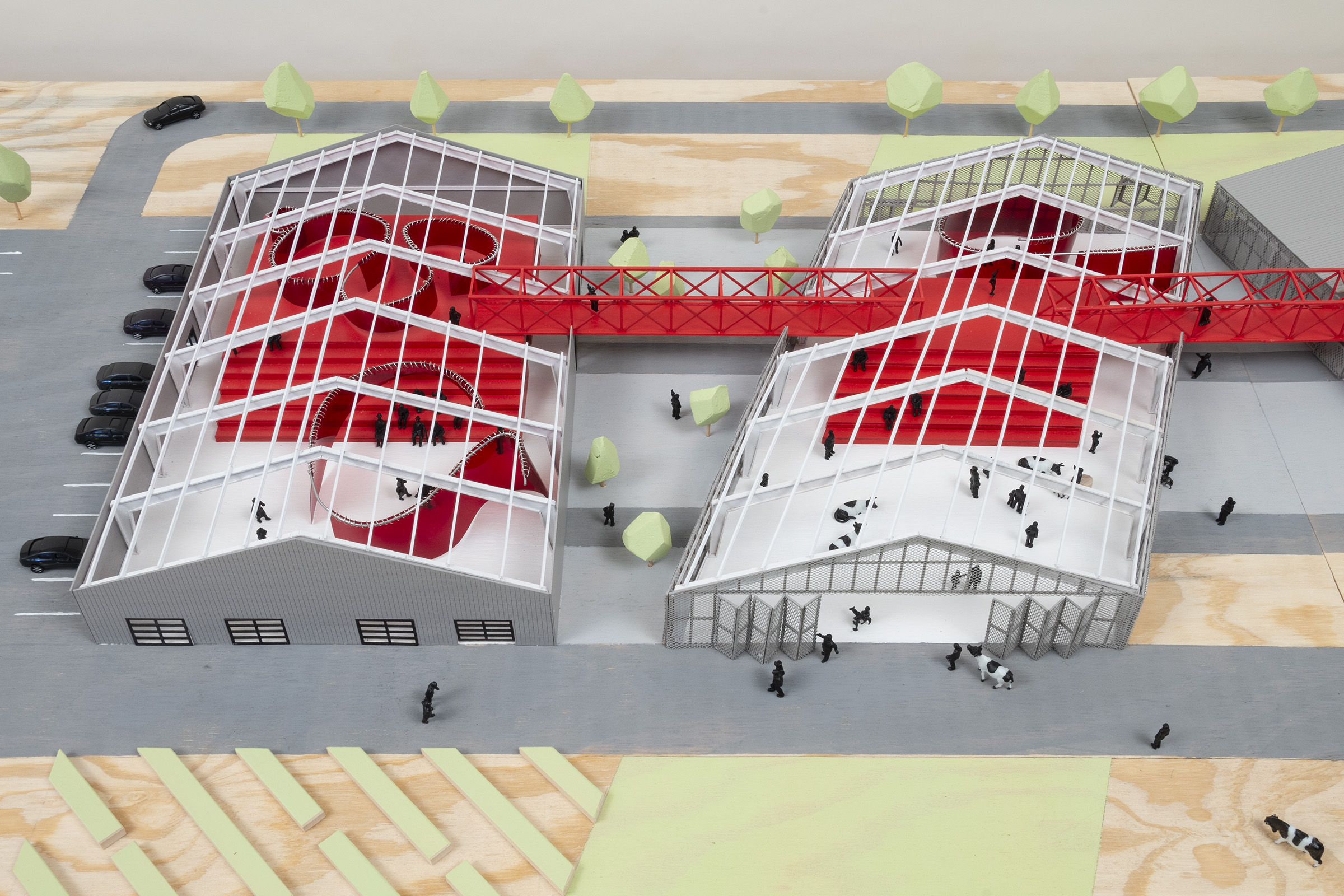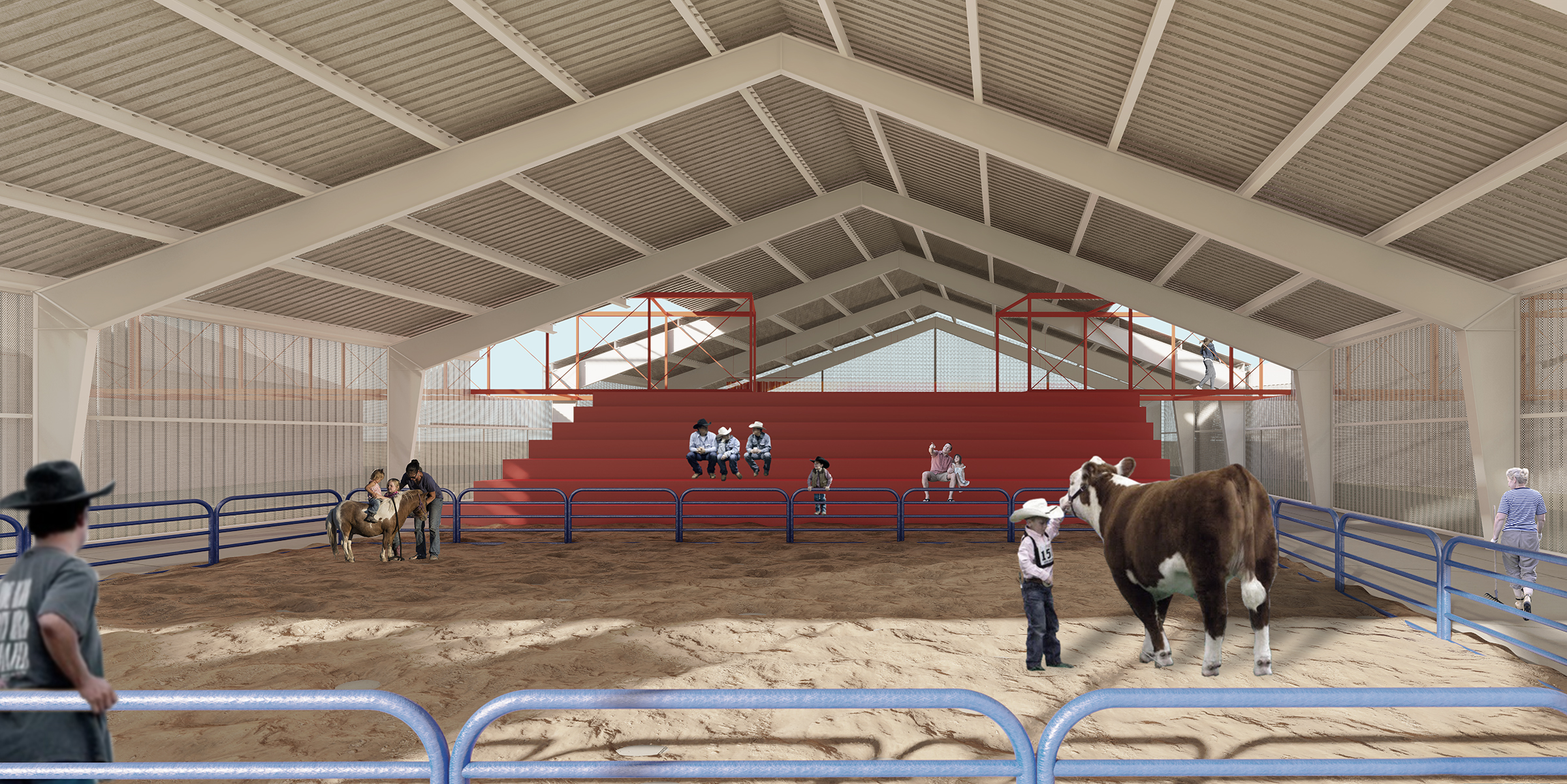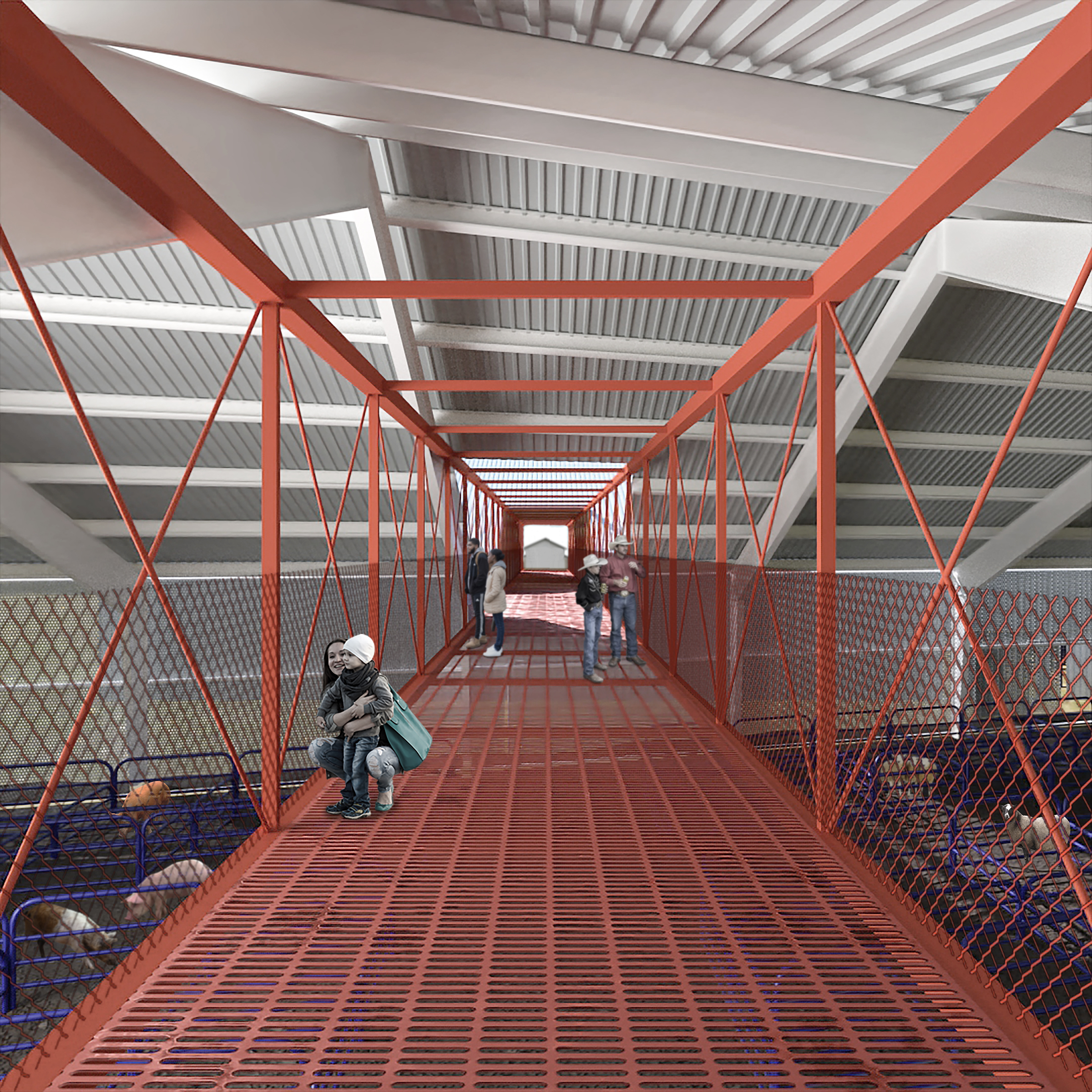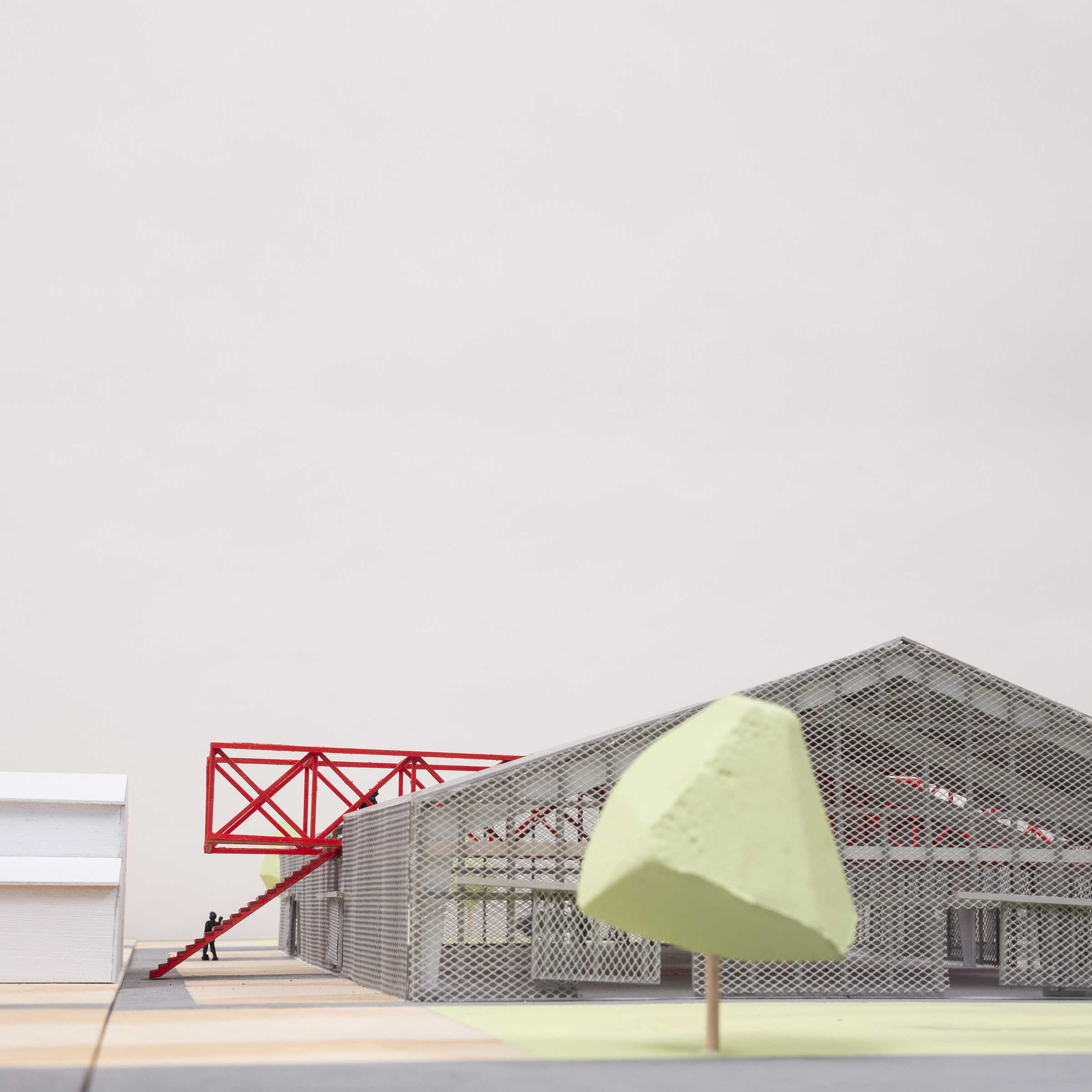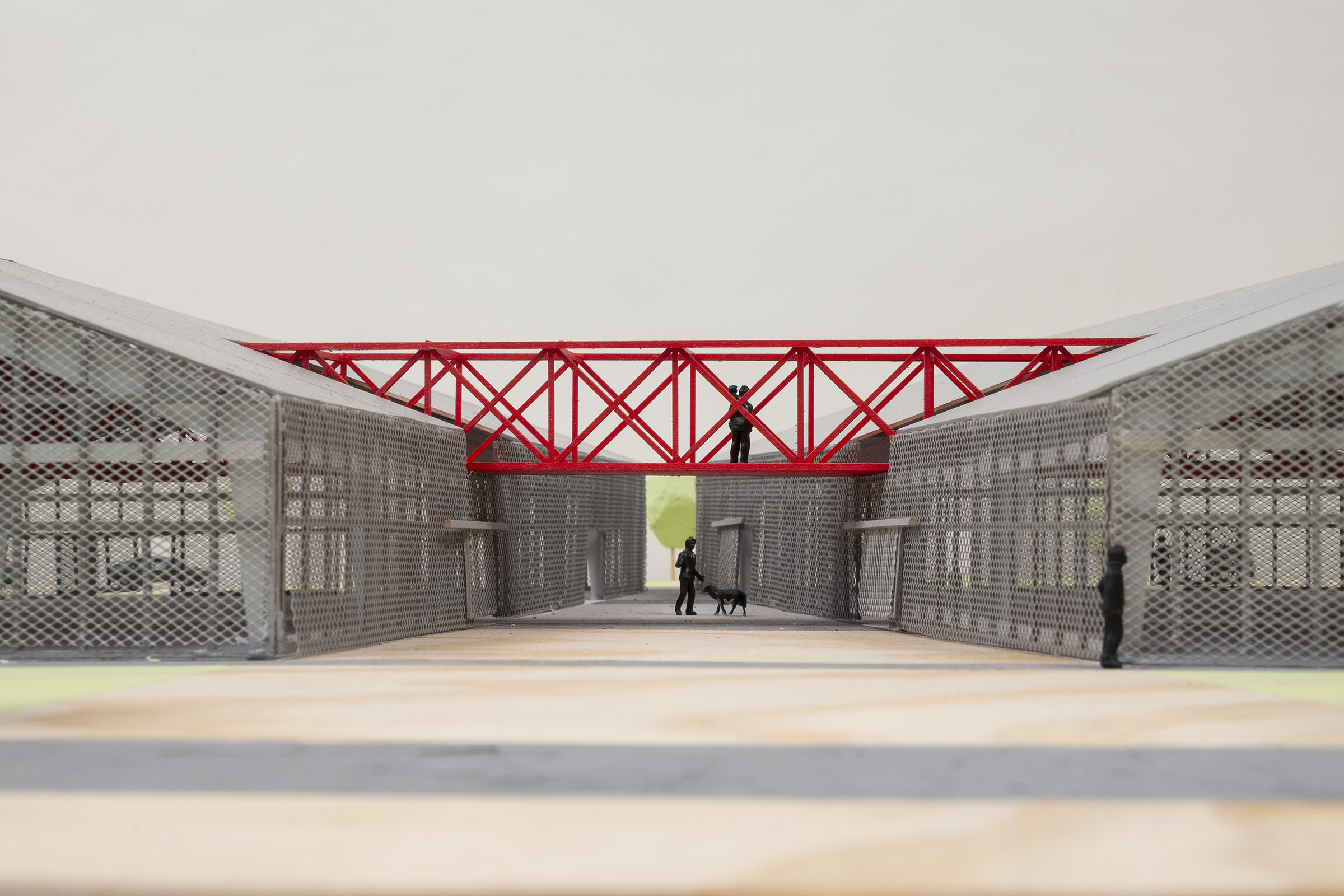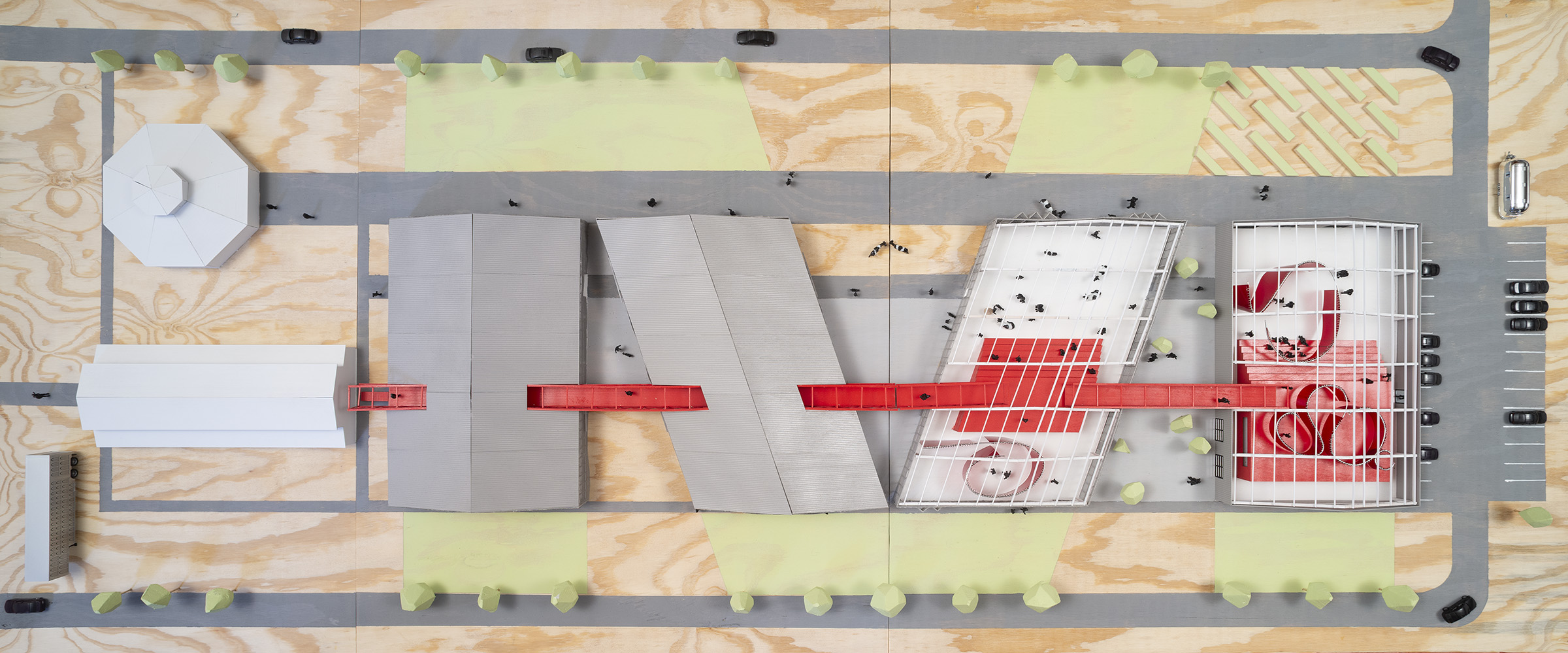 Towards a Critical Ruralism
The rural environment has largely been ignored by the design professions. As architect Rem Koolhaas points out, "half of mankind lives in the city, but the other half doesn't". In a 2020 publication and a major museum exhibition, Koolhaas "presents his manifesto on the countryside, revealing how little attention has been paid to the countryside in the past decades and how this unknown territory is rapidly transforming".* While Koolhaas' research focusses on broad social and technological changes of global scale, this project looks at the near environment of specific communities, the people within them, and the unique opportunities for generating contemporary design-research and modern design products in the cultural margins. The project challenges the urban-rural binary to propose a form of "agricultural urbanism" of the everyday that reverses perceived biases towards urban culture as global culture and the rural as a resource primed for extraction, proposing instead a new cultural nexus of commoning for the rural. Thus, the Sheridan County Fairgrounds fits within a legacy of past FACT projects with organizations such as the Art Farm Nebraska, the Salina Art Center, and the Sandhills Institute's Grocery cultural center, currently under construction.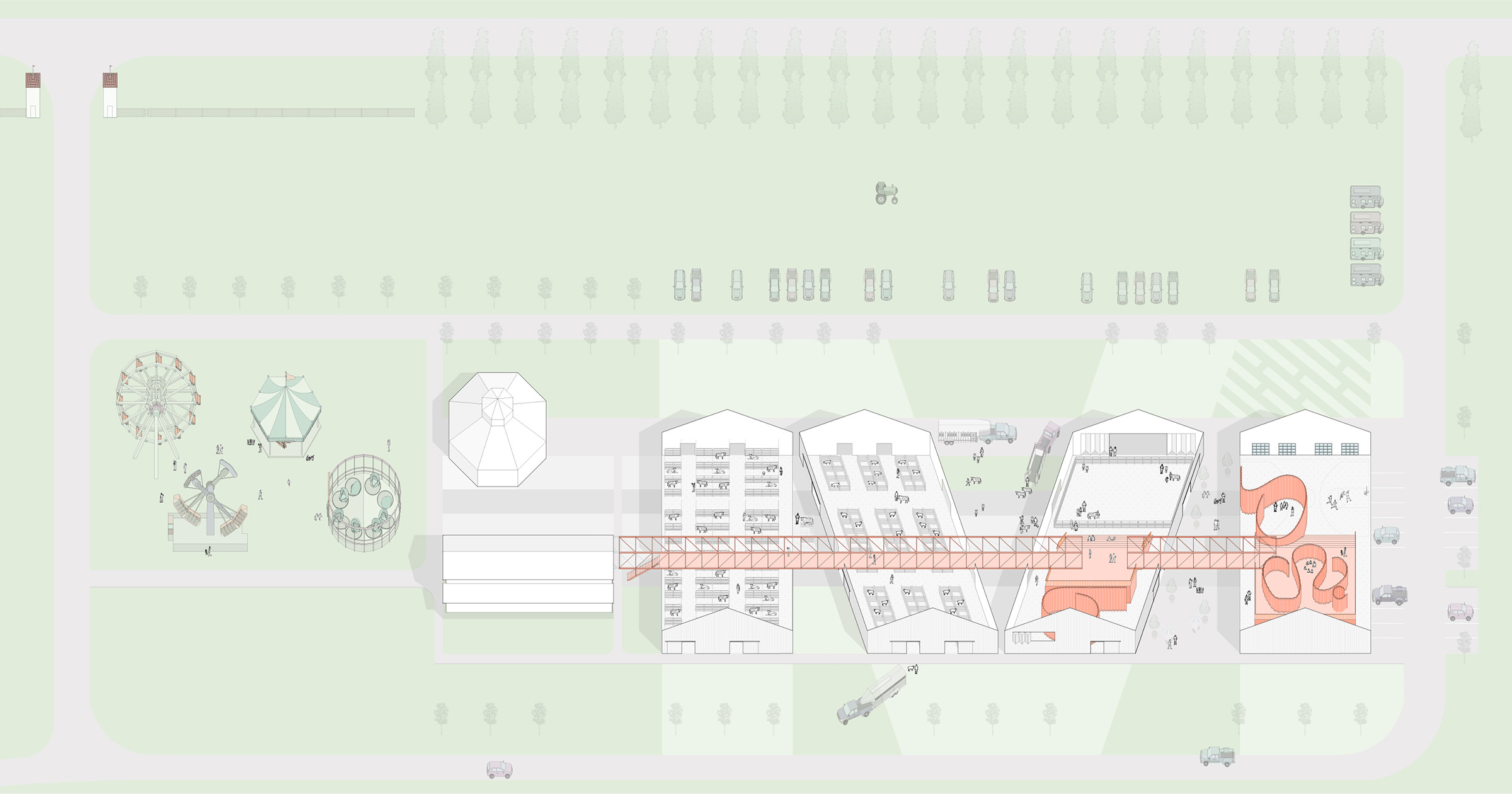 Project Team
students:
Ashley Glesinger, Paige Haskett, Jerry Philbin, Andres Villegas
interns and phase 2 students:
Ethan Boerner
consultants and subcontractors:
Actual Architecture Co. (Architect of Record)
project advisors:
Sandhills Institute
other students (alternate scheme):
Mikinna McGerr, Alicia Ringer, Noah Schacher, Brendan Schartz
model photography by Larry Gawel